Disclaimer: I received books to review. All opinions are my own.
Autumn is coming. That means that as time goes by, more time will be spent in the house. Also, it will be getting dark earlier. All this means that adults and children alike will need more things to keep them busy. Instead of turning to computers and all electronics, let books and crafts lead the way.
23 Things to do Before you are 11 1/2 by Mike Warren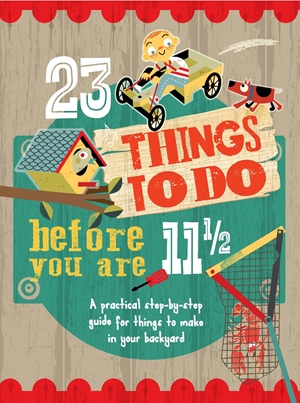 Are you a dare-devil? Learn to make stilts, a rope ladder, and even a go-cart! Budding adventurer? Learn how to put together a survival bag, campfire and fishing net. Aspiring conservationist? Learn to build your own bird nesting box and wormery. From basic woodworking skills to constructing a kite, this brilliant guide is full of fantastic activities you can enjoy with a parent or grandparent. Learn about science and the eco side of an invention as you work through the 23 fun projects. Outdoor activities have never been such fun - and if it's raining, there are plenty of other fun things to do too!
I knew this was going to be the perfect book for Tbomb and I was right. He is already planning things to do with his daddy. Even though most things need to be built outside, he is reading it inside and staying interested. Some things can be done inside and some things are the perfect time to do them to get done in time for next spring and summer. I love that it shares a lot of practical projects and fun projects.
Stuck On fun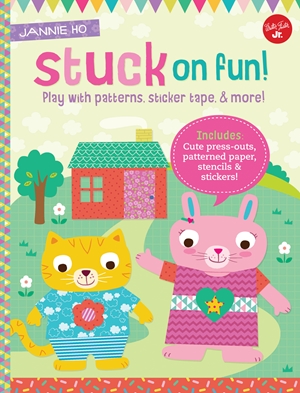 From washi tape, patterned paper, and stickers to stencils and punch-outs, Stuck on Fun is a perfect gift for crafters of all ages!
Stuck on Fun introduces young crafters to the creative possibilities of decorative tape and patterns. This interactive book comes with fully illustrated punch-out cards and characters, as well as stickers, sticker tape, patterned paper, and stencils to decorate, embellish, and personalize each punch-out in a unique and colorful way. Also included is a project book filled with simple instructions for designing and creating unique patterns from the included materials as well as an assortment of common craft supplies. Kids will have a blast creating their own unique character designs, doodles, and patterns. From washi tape, patterned paper, and stickers to stencils and punch-outs, this book is a perfect gift for crafters of all ages!
This is the perfect book for snapper. Not only does it introduce her to the world of crafting, but it makes it simple and keeps things slow. She can also create puppet shows and everything she needs is in this book.
Make Pompom Fun Shapes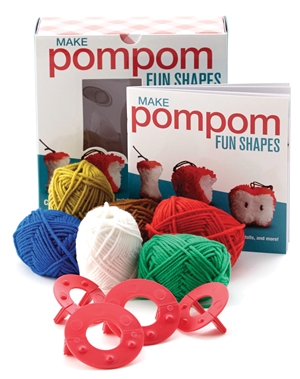 Learn to make fun and fluffy pompom shapes with this all-in-one kit!
Make Pompom Fun Shapes is an adorable do-it-yourself kit includes a step-by-step, 16-page booklet that contains illustrated instructions for learning basic pompom construction. With 6 exciting projects and 6 different yarn colors, crafters will have endless fun with just one kit. The tools and techniques that are found in this kit can be used to create future pompom projects.
The Make Pompom Fun Shapes kit also comes with lightweight acrylic yarn in 6 different colors- 30 yards each and pompom makers in 2 sizes.
With this kit, the whole family can get in on the crafting. The book contains easy to follow diagrams for all of the projects so even kids can do them. It contains all you need for the projects and hours of family fun in a box. Just add scissors (and ice cream, of course)!
Learn To Crochet Kit
With all you need to start crocheting your very own scarf, this kit includes a step-by-step, 32-page booklet that contains illustrated instructions for learning basic crochet stiches. Even if you're a beginner, you'll have a 5.5" wide and 58" long scarf when you're done!
Crocheting expert Deborah Burger will teach you about hooks and other crochet tools, yarn, and all the basic stitches. You'll understand crocheting instructions, symbols, and diagrams so that you'll have a handy list of abbreviations for all your future crochet projects.
The Learn to Crochet Kit also comes with worsted-weight yarn in two colors (150 yds. each), a size H (5 mm) crochet hook and a yarn needle.
This little kit will keep me busy for a while. I can chain stitch, but that is it, so I am really looking forward to learning some new stitches and trying them out. I may be able to get some extra projects finished this year for Christmas after I learn these stitches!
Aromatherapy Kit by Iside Sarmiento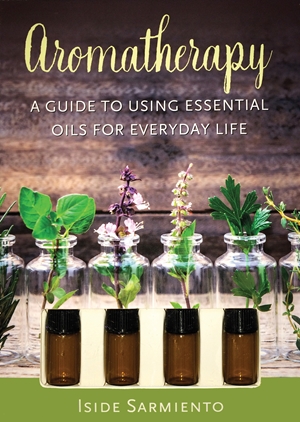 Start enjoying a healthier and more sustainable life with essential oils, all from the comfort of your own home!
Essential oils are an all-natural way to bring about peace, calm, energy, and many other states of being. An alternative route to stress relief and preventative care, these oils can truly help heal.
The Aromatherapy Kit contains information on all of the most common oils used in home remedies: orange, lavender, peppermint, tea tree, lemon, frankincense, geranium, and cedarwood. They are each profiled so you can use their individual attributes to create a unique blend for exactly what you need, with instructions given on whether oils are to be used topically or diffused around your home.
You'll find ideas on how to use essential oils for cleaning appliances or freshening up clothes and musky closets. The book also includes advice on how to purchase and store essential oils for all of your aromatherapy uses. Find the aromas that best suit your lifestyles and develop a love for them that will last a lifetime.
Head on over to
QuartoKnows.com
for these and other books to stop fall boredom in its tracks!