Disclaimer: I received a product to review. However, all opinions are my own.
Here's a little secret: I'm a huge coffee drinker. Well, I guess it isn't such a secret since I carry coffee wherever I go. Actually, my family and my husband's family are all huge coffee drinkers. This is all well and good, when we are at home. We take a simple coffee pot with us when we travel, whether camping or in a hotel (even sometimes to visit people). Great idea, right? I don't think anyone is a fan of those hotel coffee pots. It worked very well until we broke our coffee carafe on one trip. Broke our little hearts.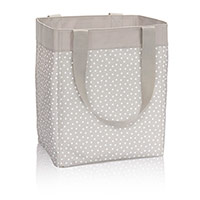 Thanks to Thirty-One, our problem is solved. We can now pack our coffee pot, along with filters, cream, sugar, and coffee in the
Essentials Sotage Tote
from Thirty-One. I got it in Taupe Dancing Dot with "I Need Coffee & A Whole Lot Of Jesus" embroidered on it. I love that it always makes a statement. I always get comments on it.
It is very sturdy and acts as a buffer against banging and keeps the carafe safe. We can easily carry our coffee pot where ever we need it without juggling every thing. This is definitely a winner for our family. It will be used for years to come.
Head out to the playground or take a day trip with all your essentials in this roomy storage tote. Don't worry about leaving anything at home – webbed handles and sturdy construction means it can carry all your necessities!
Size: Approx. 14.5"H X 12"L X 9"D