FAIRFIELD, NJ – December 8, 2015
– Back in the days of the Great Depression, a crisp apple or orange was an exotic treat in times when money was tight and food sometimes scarce. Today we have electronics, cars, phones and TV to open as presents, but maybe keeping a tradition alive will help remind all of us just how fortunate we are these days.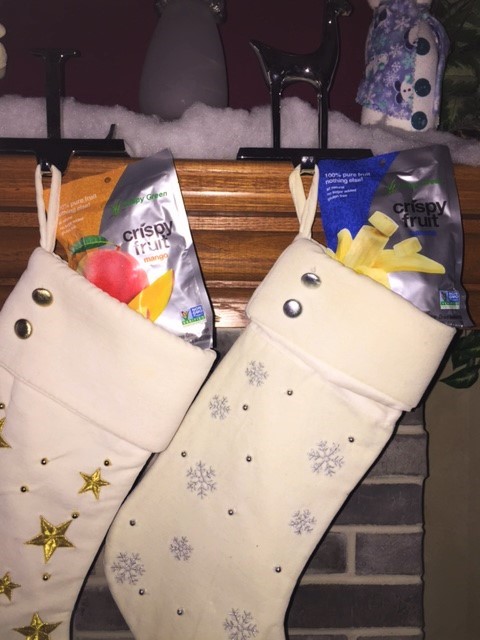 Turns out, this tradition of an orange or tangerine in the foot of the stocking came about from the tale of St. Nicholas tossing gold pieces down the chimneys of the less fortunate to help provide dowries for their daughters. The gold happened to land in each of the girls' stockings that were hanging by the fire to dry.
Well, times have changed, and kids today would think a piece of fruit in their stocking was almost equivalent to a piece of coal! So, here's a modern spin on this tradition—top off your kids' stockings with a single-serving bag of Crispy Fruit from
Crispy Green
.
Top-quality fruit, freeze-dried to perfection results in a light, crispy texture for maximum taste and no mess. Crispy Fruit comes in a variety of flavors including Tangerine, Apple, Asian Pear, Banana, Cantaloupe, Mango and Pineapple and comes packaged in individual, single-serving packets that are easy to pop into backpacks, briefcases, travel bags, overnight totes, purses and, oh yeah… holiday stockings!
The entire line of Crispy Fruit is Non-GMO Project Verified and available in a convenient "Grab & Go" 6-pack (MSRP: $7.99) or individual, single-serving bags (MSRP: $1.49 each) that provide approximately one serving of fruit at 55 calories or less per bag.
Crispy Fruit is available online and in retailers such as The Fresh Market, Harris Teeter, ShopRite, Giant Eagle Market District, Earth Fare, Ahold, Schnucks, Dierbergs, King Kullen, Safeway, Weis Markets, Shaw's Markets and selected Whole Foods Markets. To find a retailer in your area that carries Crispy Fruit, go to
www.crispygreen.com/where-to-buy.html
. For more information, please visit
www.crispygreen.com
.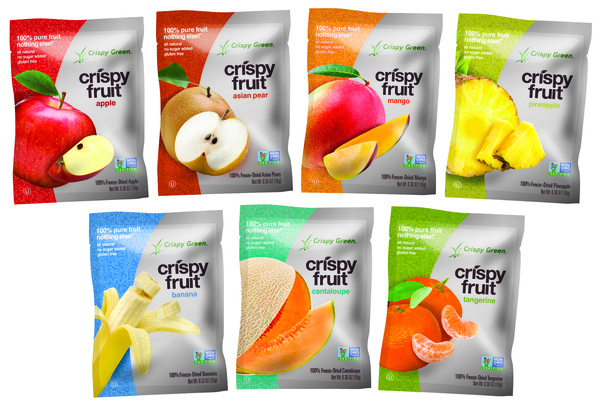 About Crispy Green
Crispy Green Inc. (crispygreen.com) is the maker of Crispy Green® Crispy Fruit (freeze-dried fruit) snacks. Crispy Fruit snacks are a delicious, convenient way to add more fruit to your daily diet. Founded in August 2004, their vision was to be the leading provider of high quality, natural food products desired by anyone who wants to live a healthier lifestyle. Crispy Green strives to be a trusted business partner and category leader, keeping the trade informed of industry issues, trends, new product introductions and innovative programs that provide multi-level growth opportunities. The company's commitment to sustainable and ethical business practices such as truth of labeling provides transparency and traceability of their product's origin. Crispy Green consistently provides high-quality freeze-dried fruit snacks, adding new flavors to its Crispy Fruit line to meet market demands.
###