Disclaimer: I received products in exchange for this post. All opinions are my own.
As I've mentioned before, technology is huge in our house. We use technology for business, entertainment, school, organizing, and more. We don't shun technology, we embrace it! Even the kids have tablets, plus a couple of our old phones. The problem comes in organizing them and putting them in different places. Thanks to
CarSeat Cinema
, that problem is solved!
Carseat cinema has answered many of my problems with using electronics with kids. It has a back (and flap) made from a padded fabric in a choice of many gorgeous patterns. The front is made of a thick clear plastic to protect your screen, while still allowing the touch screen to be usable. There are 4 elastic loops on the phone case and 8 thicker alastic ones on the tablet cases. These links can then be used to hang it. We were sent a
mini tablet
one in Fuschia Lantern and
phone
ones in light blue bollywood. You can also get them large enough for a
standard tablet
.
Carseat Cinema allows the tablet or phone to be used while keeping them protected from scratches, dings and even grimy fingers. The coushion fabric allows for some protection against drops.
Want to let your little one watch a cartoon, but not touch the device itself? Carseat Cinema can be attached to just about anything so you can accomplish that as well. This will also allow you to let them play games without the fear of them dropping it.
You can wash it- hand wash it to clean the fabric and let it hang dry. If the vinyl gets dirty, just wipe it with a wet cloth or wet wipe and you are good to go.
10 Places To Use The CarSeat Cinema
The majority of these are appropriate for tablets and phones.
1. Naturally in the car- even hang it from the backseat for rear-facing babies, or on the canopy of a carseat or stroller.
2. Shopping- attach the links to the handle of the buggy or, to the stroller so your little one is entertained and you can shop to your heart's content.
3. Kitchen- hang it from your cabinet knobs to see your favorite recipe or watch a video. Use it to let little one be entertained while you cook.
4. Kid's room- Let them watch a cartoon on the tablet or phone during nap/ quiet time. Hang it from their bed for easy viewing.
5. On your bicycle handles or steering wheel for using GPS.
6. During Craft time- Want to Facebook while you glue sequins to that lampshade? No problem, just put your phone in CarSeat Cinema and you are good to go.
7. In A Restaraunt- Attach it to the highchair and let them play to their heart's content. you can use it there too without worry of something getting spilled on your device.
8. In the Garage- Working on the car? Watch videos and do research without fear of getting grease on your tablet.
9. At the Doctor's- Want to keep your kids entertained and in contact with as few germs as possible (I don't let my kids play with the toys or read the books)? Put the device in the CarSeat cinema, then spray with lysol when you leave.
10. Anywhere. Letting your kid play with your phone or tablet? attach more links to the ones on the Carseat Cinema and then link them on someting so that it does not fall tto the floor- perfect for cartrips- no more reaching to the floor to find the tablet.
CarSeat cinem
a can be used with other devices as well, like the LeapPad and Innotab. Use your imagineation and use it to your heart's desire.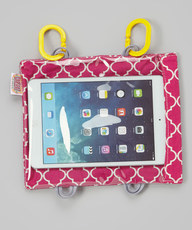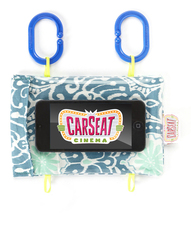 Door Ding Danger Decal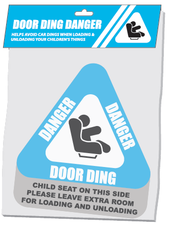 CarSeat cinema's sister compan,
Door Ding Danger Decal
, is a lifesaver to grocery shopping mommas everywhere. Just place this magnet on the doors with carseats and it will let those neighboring cars know to leave a little extra sp(yes, I'm talking parking at the bottom otf the lot). ace. We all know what it is like to be trying to put a baby carrier, toddler, or preschooler in the car, but there is very little space for the door to open. I know I'm always terrified that I'm going to endup banging the other car with the door. I've even gone to extreme precautions to keep this from happening.
You can get one of these handy magnets for just $8.99 or a two pack for $13.99