Disclaimer: I received a book to review. All opinions are my own.
When I was a kid, I wanted to be a zoologist. It was my dream until I realized that not all animals could be saved. I changed my tune then. I still have a very deep love of animals and I try to instill that in my children. (I am in the cryptozoology field, ya know). I love seeing my children excited about science of any kind, especially if it involves animals. I was given the opportunity to review
Zoology For Kids
, by Josh and Bethanie Hestermann. I knew that Tbomb was a little young for the book but with his love for science, I figured there would be something for him and it would grow with him.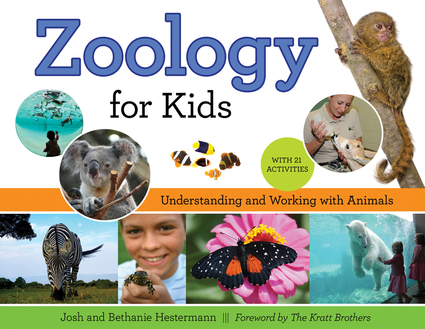 Zoology For Kids (
Amazon
) is now in a very handy spot on the bookcase, Tbomb loves it that much. I love that he loves it, and also that it teaches about animals and has fun activities throughout its pages. It helps too, that the forward is by The Kratt Brothers.
The photos are gorgeous and the "lessons" are educational and entertaining. Kids get to dive into the science of Zoology and learn about more than just what an animal looks like, eats, and survive. This book explores the animals' form, function, and behavior. I especially love the scientific vocabulary.
It also includes a history of zoos and aquariums. Through Zoology for Kids, they get to learn about the everyday lives of zoo-keepers, wildlife researchers, veterinarians, and even conservationists. I love that this book allows the kids to learn about all aspects o the Zoology world. I wish this book existed when I was a kid- I probably wouldn't have given up my dream of being a zoologist.
Even cooler than all of this are the hands-on activities outlined in the book. It helps kids learn and understand when they can do a physical activity with a lesson, as opposed to just listening to a lesson. Some of the activities include making a stethoscope, baking edible animal cells, molding a tiger's jawbone, and even design an exhibit. These activities encourage play as well.
Zoology For Kids can help children learn about the animal kingdom, the culture of zoos and the like, and to have a healthy respect for the animal kingdom. Who knows- your child might just decide to be a zoologist.
You can learn more about wildlife and the ways they are being protected by Global Wildlife. See
Brian Sheth
's role in this project on their website.